Our Inventory of Wood Look Tile in Moline, IL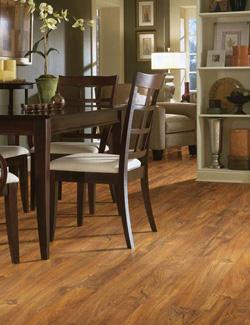 There's more than one way to enjoy the appeal of classic, natural hardwood in your home. Though the genuine article's use can be limited by climate, moisture, and concerns about heavy wear, you can find equally impressive alternatives at Flooring America of Moline. With our help, you don't have to choose between the look you desire and practical value for the long-term future of your home.
We offer our wood look tile in Moline, IL, for homeowners who want both in one package. Bringing timeless beauty into the modern age, this material takes advantage of grouted wood grain ceramic or porcelain planks to give you a truly outstanding surface. Even better for your home improvement project? It's a true upgrade in its own right, not just something you have to settle for.

Elevating Any Area
What makes tile such a great alternative to its natural counterpart? It recreates the impressive appeal with some added advantages, such as:
Nearly Limitless Design Options
Incredible Durability
Heating and Cooling Benefits
Easy Upkeep
That last point is vital, because it makes our ceramic and porcelain wood tile a crucial resource for busy customers who don't have the time to spare for continuous, laborious maintenance. Add to that its water resistance and overall ability to withstand common household pressures and you've got an all-in-one option for almost any room -- even ones where real wood often isn't a viable option, such as bathrooms, kitchens, and basements.

Making a Smart Surface Investment
There's more to our tile than its toughness and ease of use. We carry two distinct variants of our classic wood look product to ensure that you always have a plethora of potential foundations for your ideal home design.
Ceramic Wood Tile-- The right fit for your floors can be hard to find. With our ceramic selection, you can make your tile upgrade as easy as possible. This material's most stand-out advantage is the fact that it's simple to cut and work with. By choosing ceramic, you ensure that you'll enjoy a hassle-free installation experience.
Porcelain Planks-- If exceptional strength and water resistance are what your space needs, porcelain delivers the perfect level of protection. Tough, beautiful, and ready for action in even the most moist rooms in your home, this choice gives you the power to enjoy a wood look almost anywhere.
Whether you choose wood plank porcelain tile or its ceramic cousin, the experts at our showroom can help you make the most of your shopping experience. From product comparisons to adding extras like an attractive area rug [link to Shop Now > Area Rugs], find help for all your flooring needs at Flooring America of Moline.


Contact us today to talk to one of our flooring professionals about wood tile options. We proudly serve Moline, Rock Island, East Moline, Silvis, and Villa Park, Illinois, as well as the surrounding areas.