Vinyl Flooring in Moline, IL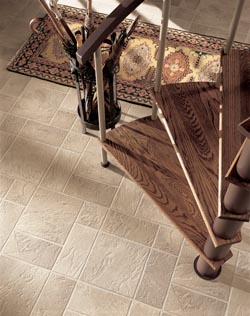 Breathe new life into your home when you visit our showroom for a fresh set of vinyl flooring in Moline, IL. At Flooring America of Moline, we offer a full range of products that take any room to the next level. Whether you are looking to transform your bedroom, kitchen, or entryway, we have everything you need to bring your design ideas to life. Our selection of vinyl tile flooring includes styles from top names in the industry. Shop with us to browse our inventory of products.


Choosing Our Vinyl Flooring Products
When you are ready for a style upgrade, shop with us for your new resilient flooring. At our local showroom, we offer a full variety of flooring materials that will make any space stand out for all of the right reasons. No matter what your design ideas are, we are here to help you achieve your goals without overspending on your materials.
Whether you are dreaming of a specific style, or you are in need of design inspiration, we have you covered with our showroom full of options. These vinyl flooring products include options that mimic the look and feel of countless other materials on the market.


Strong & Stunning Vinyl Flooring
Each day, your floors go through a lot. From kids to pets, heavy foot traffic can take its toll on your hardwood and other materials. Scuffs, stains, and other issues are common problems that homeowners face when it comes to flooring in popular rooms. While regular maintenance can extend the life of your flooring, eventually you will have to go through repairs to keep these materials functional.
Make the right investment in your home when you install vinyl flooring products from our local showroom. This material is built to last, and is designed to hold up to everything from spills to heavy foot traffic without the need for extensive maintenance or repairs. No matter which part of your space you are updating, our durable flooring is the perfect choice.


Completing Your Vinyl Floor Installation
Once you decide on the perfect color and style of vinyl flooring for your home, trust us to finish your job. We proudly offer full installation services for each of our customers. No matter what size your space is, we complete your project to the highest standard. With us on your side, you will enjoy peace of mind that your job is in good hands.



Contact our showroom to explore our selection of vinyl flooring for your home. We proudly offer vinyl floor products for installation throughout Rock Island, East Moline, Silvis, Villa Park, and Moline, Illinois.