Classic & Durable Tile
Craft a truly unique space with the help of Flooring America of Moline's durable tile flooring. Our selection of tiles allows you to explore some of the most impressive products on the market and add a personalized touch to your remodeling projects. When investing in new tile floors, you choose a beautiful, long-lasting flooring solution that looks great indoors and outdoors. You've come to the right place if you are looking for both functionality and long-lasting beauty. Make the most of your tile flooring installation with the help of our knowledgeable team. Visit our showroom in Moline, IL, today to find complete support for your tile project. We look forward to meeting you!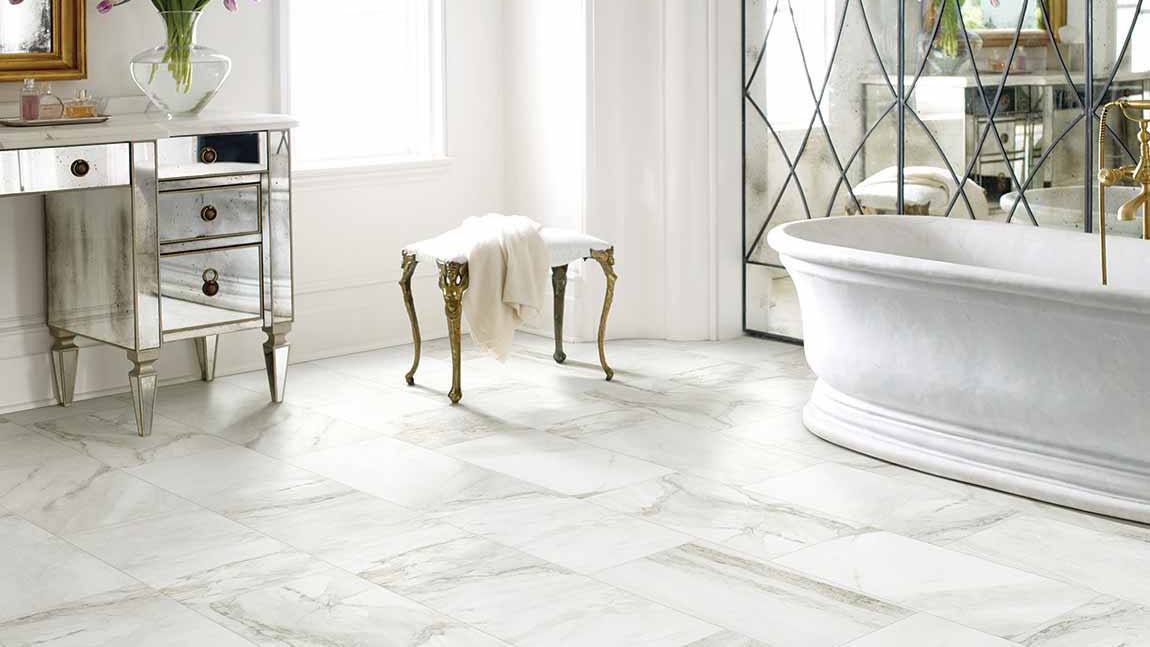 Our Tile Selection
At Flooring America of Moline, we understand that choosing which type of tile to install in your home can be difficult, especially with so many wonderful styles to choose from. Fortunately, our team understands how each type of tile is best used, so we can explain the features and benefits of each type of tile flooring we have to offer. Learn more about the types of tile available at our showroom:
Ceramic tile

combines beauty and durability, which results in a stylish and efficient package. Ceramic is one of the most popular tile flooring types and backsplash designs. It is crafted from a heating and cooling process using kiln-fired clay. It resists all stains and harm from everyday wear and cleaning solutions. It is ideal for use in kitchens and bathrooms.

Porcelain tile

is a type of ceramic that is made from finer, denser clay that is fired at a hotter temperature. The result is a solid firm popular for use in bathrooms and kitchens. Porcelain tiles can typically be used indoors and outdoors, making this product more adaptable.

Stone tile

is one of the best tiles for outdoor flooring as it can withstand the natural elements. This type of tile adds an organic feel to any room you place it in. Our high-quality stone tile is treated and sealed to make it waterproof and resistant to stains. One of the major advantages of this type of tile is that it retains heat well.

Wood-look

tile is an increasingly popular style created with either ceramic or porcelain materials. It is made to mimic hardwood flooring but is much stronger and can withstand moisture.
Why Choose Tile to Upgrade Your Home
Whether you desire tile for durable new flooring, an updated kitchen backsplash, or a waterproof solution for your shower walls, we have quality tile products to match any design aesthetic. Choose from our industry-leading tile brands including American Olean, Daltile, Floorcraft, Mohawk, and Shaw Floors. Discover all the benefits of choosing tile for your home renovation project:
Tile is

extremely resilient

regarding staining and everyday wear and tear, making it perfect for placement in high-traffic areas.

Tile doesn't need much for upkeep because of its durability, making it

easily maintained

.

Tile is very

cost-effective

and can fit into nearly any budget!

Tile is

water-resistant

, which is why it is so popular in moisture-prone rooms.

Tile flooring can help

improve the air quality

in your home since they do not hold onto allergens as other flooring types can.

Installing tiles can also help

improve the value of your home

.

Cleaning Tile Floors Made Simple
Homes with active families and pets will benefit from how easy it is to clean and maintain tile flooring. Tile floor repels allergens, pollen, and dander, providing seasonal relief. Standard cleaning can be done with a weekly wet mop and regular sweeping or vacuuming. For a heavy-duty clean, strong all-purpose cleaner can be used on glazed tiles, while unglazed tiles can be treated with paste, water, and scouring powder. We recommend consulting your tile's warranty before using cleaners with harsh chemicals, as they could damage your tile's finish.
Professional Tile Flooring Installation
Every floor is only as good as the work that went into installing it. When you rely on our team of professionals, you receive high quality and endurance for your floors. Homeowners and business owners choose to work with us for their flooring installation because of our professional installers' experience, attention to detail, and efficiency. So, when you want your tile flooring to be installed perfectly and quickly the first time, let us be the ones to do it.
When you trust us with your flooring installation, we promise to install a long-lasting tile floor whose beauty can withstand the test of time. Trust our experts to use the best care and installation methods. Industry-leading warranties, including our Ultimate Confidence Guarantee covers our tile products.


Contact us today to start your tile project! We proudly serve Moline, IL, and the surrounding communities.