Luxury Vinyl Tile in Moline, IL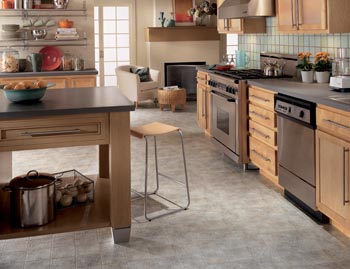 Update your interior to modern convenience while retaining classical aesthetics. At Flooring America of Moline, we make it easier to steer your interior design efforts in a new direction. With our selection of luxury vinyl tile in Moline, IL, you have the resources and support you need to successfully complete your next renovation project. Whether you are re-flooring a single room or your entire property, our teams adapt to your situation so you attain the results you want.


LVT Is Your Resilient Flooring
Looking for a resilient flooring option that can keep apace of your busy lifestyle? Luxury vinyl tile is a smart choice. Often shortened to "LVT" or "LVP," this flooring is a tough material. It is comprised of several layers of composite materials, as well as a durable "wear layer." The result is a sturdy flooring material that withstands daily foot traffic, falling objects, spills, and stains. As such, LVT and LVP are a good fit for homes with children, pets, and lots of activity.
On top of this option's proven staying power, LVT is highly accommodating to interior designers. Much like ceramic tile, LVT may be mixed and matched with other tiles to create unique patterns and color combinations. Create a solid-color floor, or establish a completely avant-garde look. At our showroom, your options are limited only by your imagination.
Finally, luxury vinyl tile and planks are a sensible investment. Thanks to modern manufacturing and printing techniques, this flooring material successfully emulates the appearance and texture of many different flooring materials, including slate and hardwood. This allows a greater flexibility according to your design tastes and lifestyle.


Vinyl Plank—Form Function in One Complete Package
Enjoy the majesty of hardwood flooring while remaining within your budget. Our store sells and installs luxury vinyl plank flooring. Manufactured to emulate the appearance and feel of hardwood floors, "LVP" is a cost-effective alternative. Our selection of vinyl plank is available in a wide selection of styles, including different wood species and grain patterns. "Wood-look" vinyl is sure to be the favorite flooring for your next project. It is even able to be placed in moisture-prone parts of your home, such as the kitchen, bathroom, and basement.


Enhance Your Design Experience at Our Luxury Vinyl Tile Store
Selection and service are here for you when you visit our luxury vinyl tile store. Our showroom features samples from the well-known manufacturers, including COREtech. In addition to our wide selection, our showroom also includes knowledgeable sales representatives who are more than happy to act as your personal design consultant. We can help you find the right materials to craft your flooring designs. As such, you are able to create your investment with total confidence.


The Total LVT Installation Solution
You put in the time and effort to design your ideal flooring. You deserve to realize your vision right to the letter. Our store is available to facilitate LVT installation that works according to your needs. Our technicians are well-versed in the latest installation methods, and we use dependable equipment with every project. The sales team works closely with the installers to measure, cut, and place the exact amount of materials you need for your project, allowing you to save time and money. Request a room measure for an install and begin designing your own customizable floor.



Contact us today to learn more about our selection of luxury vinyl tile and plank. We proudly serve property owners in Moline, as well as Rock Island, East Moline, Silvis, and Villa Park, Illinois, as well as the surrounding area.