Hardwood Flooring in Moline, IL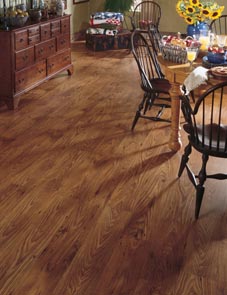 Start your next renovation project on the right track. Flooring America of Moline makes it easy by offering a vast selection of hardwood flooring in Moline, IL. With our product variety and commitment to personalized service, you can have confidence that you will find hardwood floors that fit your style and budget. Browse our selection with our experienced sales representatives and let our installation technicians finish the project for you. From start to finish, we are your source for stunning wood floors.
The Longstanding Appeal of Hardwood Flooring
Hardwood flooring is widely revered for its distinct visual impact and staying power. When properly finished and maintained, hardwood is an investment that elevates the resell value of any property. This highly dense flooring material also resists stains and spills with ease. Cleaning up is as simple as using an approved solution and mop.
Solid hardwood and engineered hardwood are both available in many different species. The natural look and feel of this option are attributed to the complementing finish, as well as unique grain patterns. Hardwood is available in a wide selection of types, and each grain takes on a unique appearance. Let our sales representatives show you samples from our catalog and make plans for your next big project.
Hardwood from Well-Known Brands
Thanks to our extensive buying network, our showroom provides a wealth of flooring options while passing the savings along to you. We have partnered with highly respected flooring manufacturers to provide high-quality flooring. Our showroom is proud to sell products from Mannington, Armstrong, and Mohawk. Every product line we offer has been rigorously tested—and thoroughly trusted—for build quality, durability, aesthetics, and product variety. Our hardwood collections are available in a variety of species, including:
Maple
Pine
Cedar
Oak
Hickory
Birch


Solid Hardwood Flooring Is Built to Last
Craft an interior that can stand the test of time with solid hardwood flooring. As its name suggests, it is crafted completely from the source, which leads to thick planks that give off a distinct sound while underfoot. This flooring option establishes a refined elegance and sense of style to any living room, den, or dining area. For an awe-inspiring interior that lasts for years, make this flooring your first choice.


Hardwood Flooring without Compromise
Worried about moisture and humidity putting a damper on your investment? With engineered hardwood floors, those concerns are a thing of the past. Engineered hardwood is composed of layers of wood and building material to create a sturdy "core," which is then topped with a layer of hardwood. As a result, engineered planks are resilient materials that resist moisture and reduce the likelihood of warping. This option is great for homeowners who wish to place wood flooring in areas prone to water, such as the kitchen or basement.
Hardwood Flooring Installation on Your Terms
Make your vital remodeling decisions with absolute confidence. When you visit our flooring showroom you can expect personalized service and assistance. From your initial idea to the final execution, we are here for you. Our sales representatives can help narrow your options down, so you pick the flooring that best matches your interior design goals. On top of that, our team can facilitate your hardwood flooring installation on the same day.
Our trained and experienced technicians are on-hand to provide accurate measurements and thorough installation, which allows you to save time, money, and energy. We work in a thorough and professional manner to ensure you order the proper amount of flooring materials. We also perform accurate installation to ensure long-lasting results.

Contact us today to learn about our newest hardwood floors. We proudly serve property owners in Moline, as well as Rock Island, East Moline, Silvis, and Villa Park, Illinois, as well as the surrounding area.