Beautiful & Timeless Hardwood
Hardwood Flooring in Moline, IL
When you're looking to start your next renovation project, look no further than Flooring America of Moline for all your hardwood flooring options. We make upgrading your floors easy by offering a wide selection of hardwood flooring at our showroom in Moline, Illinois. With our product variety and commitment to personalized service, you can have confidence that you will find the perfect hardwood floors that fit your style and budget.
You can begin the process of creating a whole new look when you work with one of our flooring specialists. Our team takes the time to learn about your unique needs, your home's current decor, and what your renovation goals are so that we can help you find the hardwood floors that are ideal for your home. From the warm, traditional form of mahogany, to the more modern style of birch, hardwood flooring boasts many tones and makes a huge visual impact on your home. When you shop with us, you can feel confident that any hardwood flooring you choose will continue to look amazing and hold up well for years to come.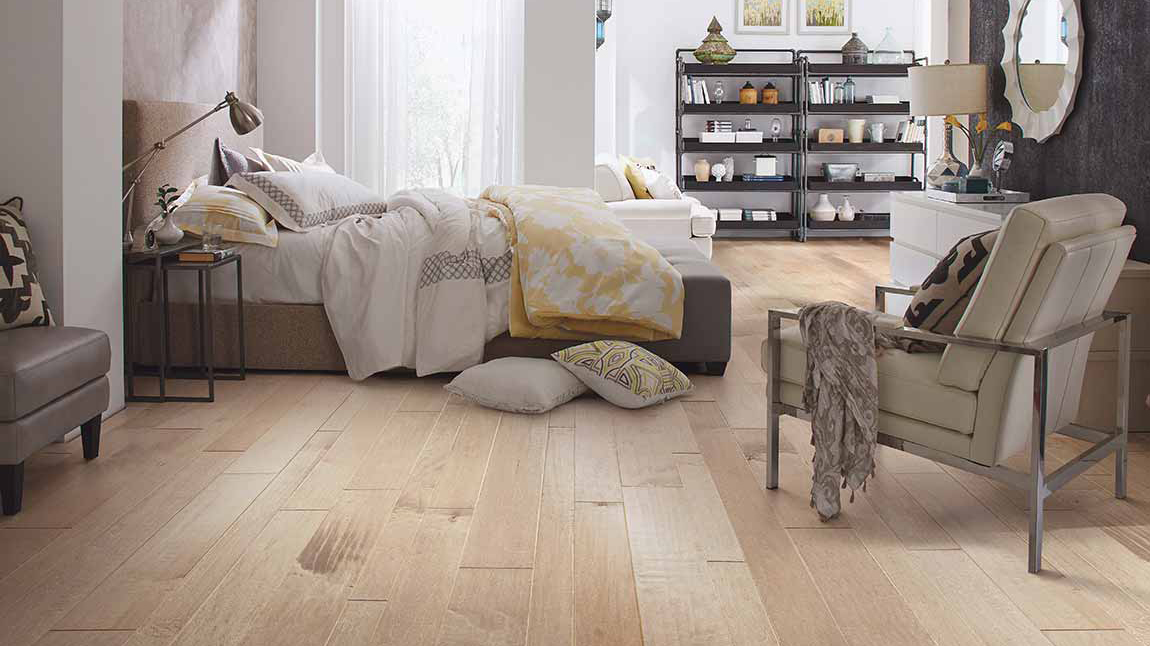 Hardwood's Long-Lasting Appeal
Hardwood flooring is well-known for the beauty it can bring to your home and its staying power. No matter what your budget is, you can rest assured knowing that we will find the best floors for your budget. You can take advantage of our stock and enjoy stunning new floors. Hardwood flooring not only makes your home more beautiful but also increases your home's value - making them a worthwhile investment. This value can be maintained for decades without showing any signs of wear and tear. Additionally, hardwood is resistant to stains and scratches. You simply cannot go wrong when your choose from our hardwood flooring options.

Thanks to our extensive buying network, our showroom provides a wealth of flooring options while passing the savings along to you. Every product we offer has been rigorously tested and thoroughly trusted for build quality, durability, aesthetics, and product variety. We have partnered with highly respected brands and flooring manufacturers to provide high-quality flooring. Our showroom is proud to sell products from:
Aquadura

Baroque Flooring

Downs

Floorcraft

Mohawk

Shaw

Spotlight Values
Solid vs. Engineered Hardwood
Hardwood flooring is known for being attention-grabbing and long-lasting. Solid hardwood and engineered hardwood flooring are both available in many different species such as maple, pine, oak, hickory, and more. Both of these options will provide you with the right amount of style, functionality, and durability to fit your needs. Both types of hardwood have their advantages and can be a great addition to your home. Learn more about our solid and engineered hardwood flooring options:
Solid Hardwood
Solid hardwood is sold as planks that are one genuine piece of hardwood and it offers the most natural appearance. Thicker in construction, solid wood is a sturdy flooring choice that can be given a satin, matte, or gloss finish, depending on your preferences. With proper care, solid hardwood can last a lifetime and is perfect for bedrooms, living rooms, dining rooms, and hallways.
Engineered Hardwood
Engineered hardwood is made from three or more layers of wood with the final product being cross-directionally laminated and fused with a top layer of premium hardwood veneer. It is more resistant to moisture, water, and humidity than solid hardwood, which makes it perfect for below-grade installations where dampness is common. It is a great choice for kitchens, bathrooms, and basements.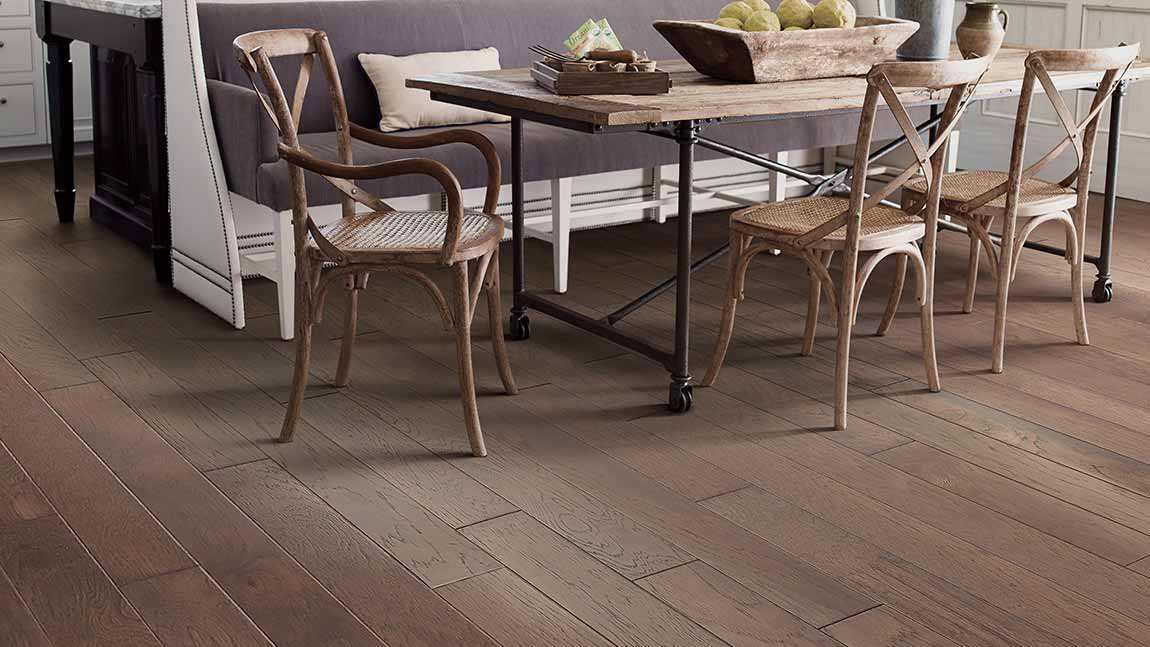 Maintaining Your New Hardwood Floors
Hardwood floors need proper care so they can maintain their like-new shine for years to come. For your regular cleaning schedule, sweep and apply a dry mop to your floor for the removal of first and debris. We recommend using a little soap and water or a wood-specific cleaning solution to keep your hardwood floor vibrant and clean. If you want your hardwood floors to be extra shiny, you can purchase a wood polish that will keep your hardwood looking brand new and can be used every 2-4 months. We are always happy to make product recommendations that are within the warranty of your new hardwood flooring.
Hardwood Flooring Installation on Your Terms
Make your flooring installation easy on you and have absolute confidence. When you visit our flooring showroom, you can expect personalized service and assistance. From your initial idea to the final steps of the flooring installation, we are here for you. Our trained technicians are on-hand to provide accurate measurements and thorough installation, which allows you to save time, money, and energy. We work in a precise and professional manner to ensure you order the proper amount of flooring materials and that they are installed properly. Our accurate installations promise long-lasting results.

If for any reason you are unhappy with your floors within 30 days of their installation, we will replace your floors with a product of similar value for free. This is our Ultimate Confidence Guarantee, a promise to you that your floors are backed by the best warranties. Your satisfaction and happiness regarding your new floors are very important to us!
Contact us to learn about our newest hardwood floors. We proudly serve property owners in Moline, Rock Island, East Moline, Silvis, and Villa Park, IL, as well as the surrounding area.