Laminate Flooring in Moline, IL
Upgrading your floors with laminate flooring is an affordable, convenient way to enhance the look and feel of your home. At Flooring America of Moline, we offer laminate flooring that mimics the appearance of real hardwood and tile but at a budget-friendly price. Whatever your interior design layout, laminate flooring has a color and pattern that can help tie it all together. With so many options in our laminate flooring selection, you are sure to find the flooring that best suits your needs in looks, performance, and price.
At our showroom in Moline, IL, we carry laminate flooring that is available in basically any style. Laminate is easy to maintain and withstands even the heaviest amounts of foot traffic. Laminate is an ideal flooring product for all of your most-used areas because it is moisture-resistant and hard to damage. When you choose to install laminate floors, you're giving your floors a stylish look that is sure to last. Whether you want classic or contemporary, we offer a wide variety of laminates that suit all of your decorating and performance needs.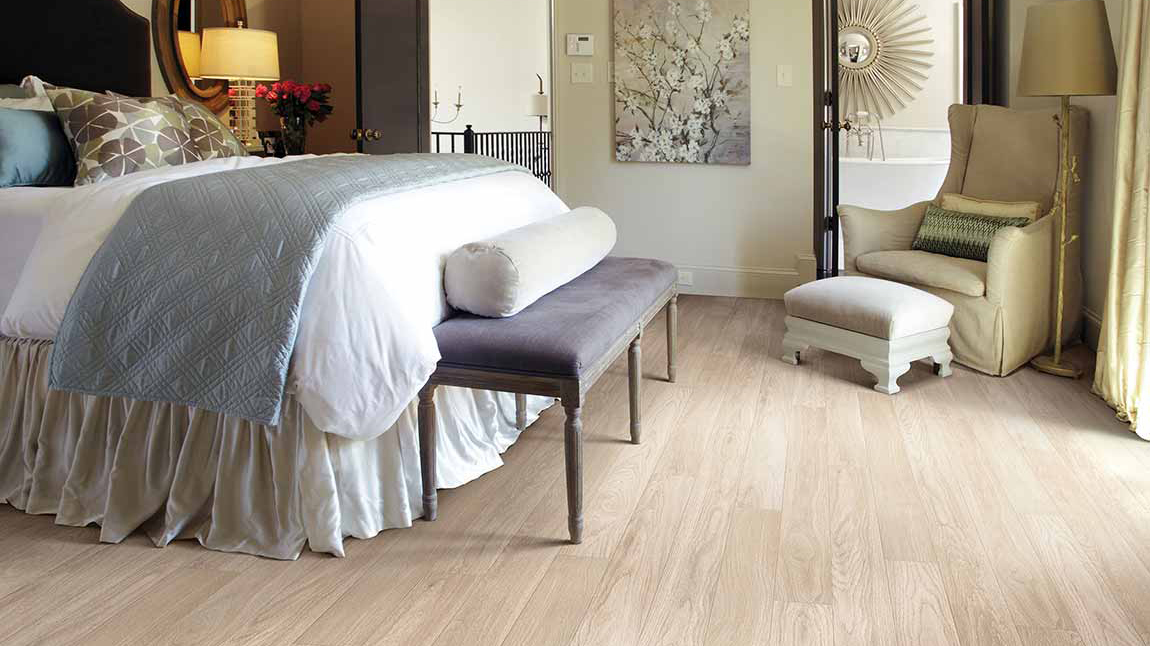 Laminate Flooring That's Right For You
Thanks to today's advanced production methods, a laminate floor not only mimics wood's color and general look, but it is also embossed and scraped to accurately reproduce wood's graining and texture as well. Some of our laminate flooring selection also replicates the most beautiful tile from marble to ceramic. Our laminates can complement any design motif. We offer laminate flooring from leading brands and manufacturers such as FloorCraft, Mannington, Shaw Floors, Mohawk, and more to make your floor look better than ever.
Our high-quality, affordable laminates are guaranteed to give your home a charming, sophisticated feel. Not only are they attractive, but our laminate flooring also provides you with the utmost comfort. The materials our laminate flooring is made from yields a bit underfoot, so it is easier to stand on for longer periods of time than on harder surfaces such as hardwood. Laminate is also easy to clean, which helps save you more time for what matters most. This sturdy material is the right choice for your living room, hallways, dining room, bedroom, and more. Choose a laminate flooring for your new flooring that will withstand the test of time. We are happy to guide you every step of the way - from selection to installation.
Types of Laminate
Laminate Wood Flooring
Our laminate wood flooring offers the same beauty and traditional look as hardwood floors, but it is more durable and low-maintenance. Laminate wood flooring can look just like your favorite hardwood species such as mahogany and oak and this is because of the laminate's high-quality photogenic top layer. Laminate has layered construction with a clear coating on top that allows you to see the image of wood beneath. Behind this is a sturdy wear layer that stabilizes this flooring and a backing layer that resists moisture.
Laminate Tile Flooring
Stone and tile add richness to any living space. Laminate tile flooring replicates the highly desirable appearance of real stone flooring at a lesser cost. Our stunning collections of laminate resemble quarried stone, porcelain, ceramic, glass, and more. Select the floors that resemble your favorite stone or tile, and you'll receive a high-end look without enduring a high-end price.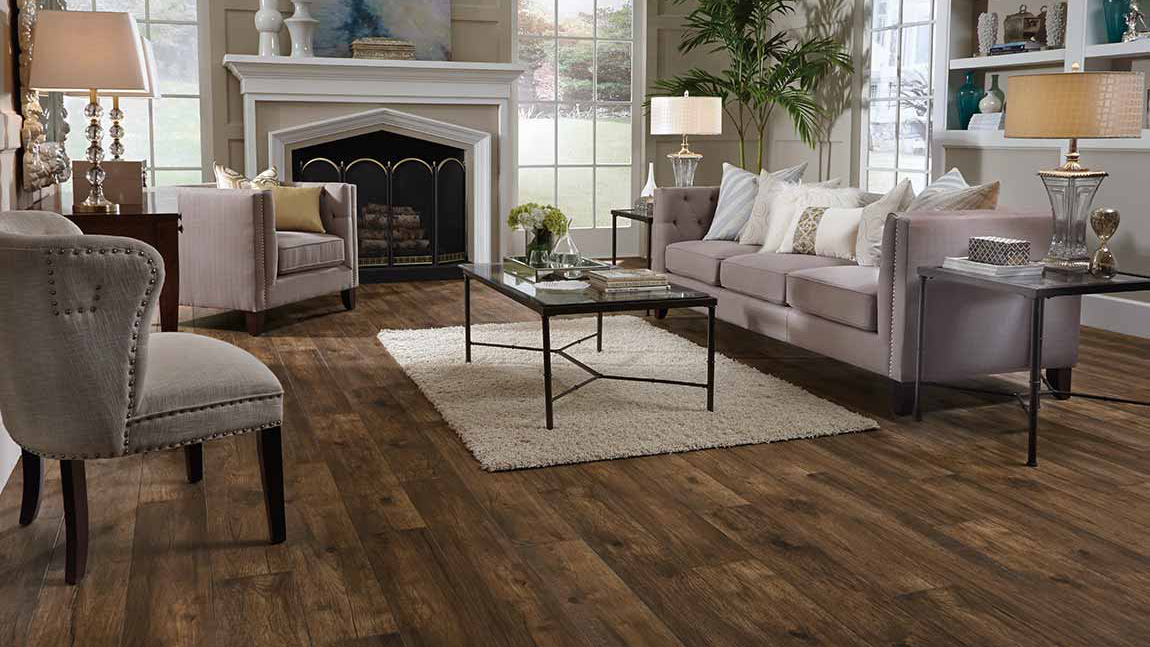 Keeping Your Laminate Clean
Laminate floors are easier to maintain than hardwood. While many other flooring types require refinishing and touch-ups, laminate requires very little of your time and energy. Simply keeping it clear of dirt and debris with the occasional sweeping and mopping is all you need to do to extend the look and lifetime of these beautiful floors. We recommend using a laminate cleaning product for the best results. Be sure to check your new floor's warranty before using any cleaning products, as they could hard your new floors. We are more than happy to make a product recommendation that fits your warranty.
Professional Laminate Flooring Installation
You can trust our installation experts to put in your new flooring with precision and skill. Once you choose your new laminate, we will work with you to schedule a time to perform the installation that works on your time. Our professional expertise and flooring equipment ensure that the entire process is quick and easy so that you can rest assured.
When you choose us to install your flooring, you will get outstanding results. We know how to do every step of the installation perfectly. From preparing your subfloors to laying down the laminate materials, everything is done professionally and correctly. Once we finish the installation, you can expect your new flooring to be securely attached and fit seamlessly to the perimeter of the room. Our installation services come at affordable rates and will make your new flooring look better as well as last longer. Our promise of a quality job is backed by our Ultimate Confidence Guarantee, which assures any necessary repairs relating to the installation are free of charge within 30 days of your installation.


Contact us today to learn more about our laminate flooring selection and installation services. We proudly serve customers in Fort Dodge, Webster City, Humboldt, Eagle Grove, and Clarion, IL, and the surrounding communities.