Laminate Flooring Store in Moline, IL
Revamp the look and feel of your home without breaking the bank by opting for laminate flooring. Here at Flooring America of Moline, we offer a wide selection of affordable laminate flooring options that effortlessly mimic the natural charm of genuine hardwood and tile. No matter your interior design style, laminate flooring is your secret weapon to tie everything together flawlessly.
Pay us a visit at our showroom in Moline, IL, where we proudly showcase an extensive range of laminate flooring styles that cater to every taste. Our laminates are designed to make your life easier with their hassle-free maintenance and incredible resilience against heavy foot traffic. They're perfect for those frequently-used areas in your home, as they can handle moisture and are difficult to damage. You're treating your space to an enduringly stylish makeover by opting for laminate floors. Whether you're a fan of timeless classics or crave a more contemporary vibe, we've got you covered with our wide variety of laminate options that perfectly align with your decorating and performance needs.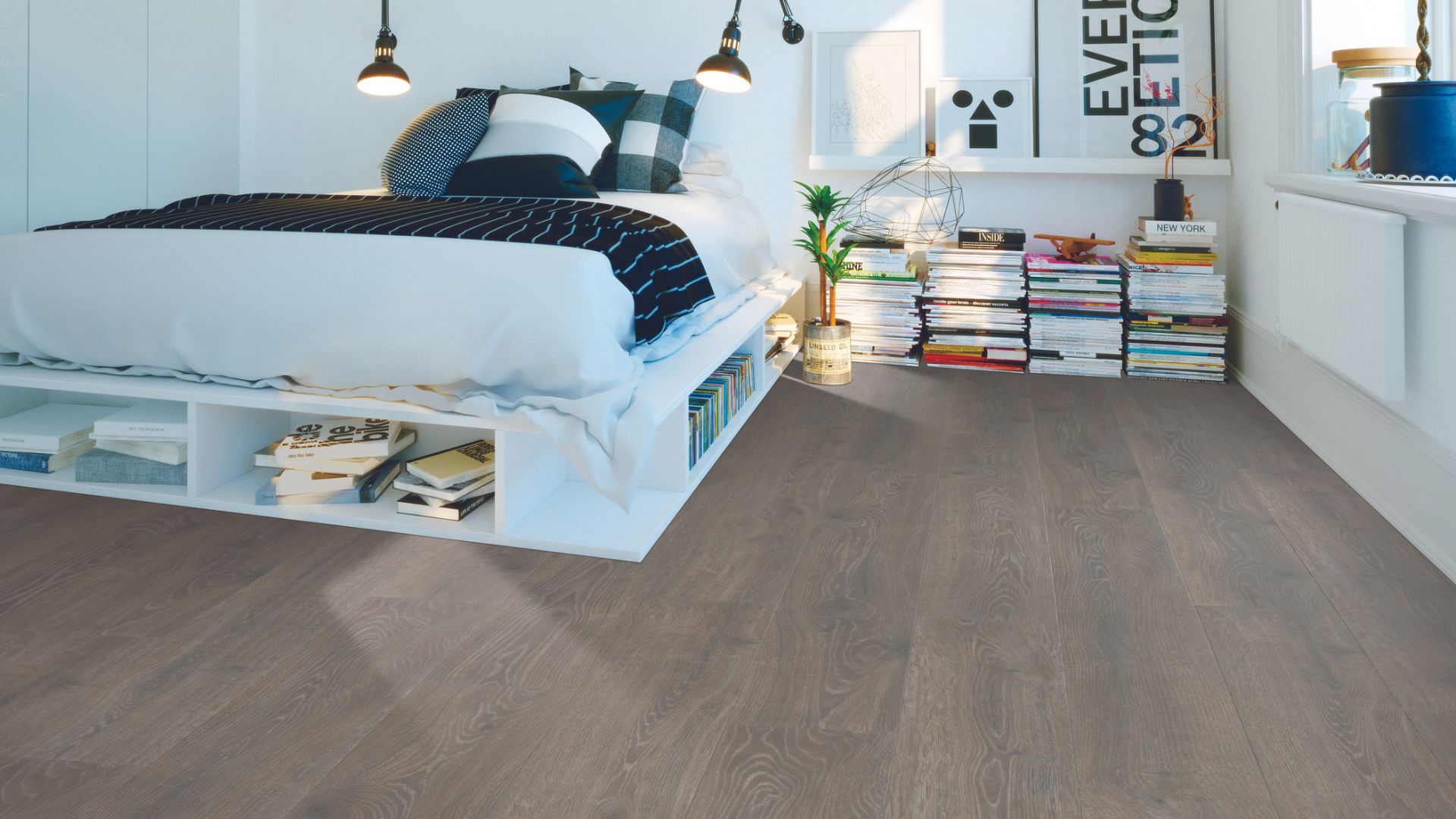 Types of Laminate Floors
At Flooring America of Moline, we offer two popular types of laminate flooring from the best brands in the industry: laminate wood flooring and laminate tile flooring. These options provide homeowners with versatile, cost-effective solutions for enhancing their living spaces. Discover the remarkable benefits of each option and find the perfect fit for your home:
Laminate Wood Flooring: Experience the timeless beauty of hardwood floors without the high price tag. Our laminate wood flooring captures natural wood's authentic look and texture, adding warmth and elegance to any room in your home. With a wide range of styles, colors, and finishes, you can easily find the perfect match for your design preferences. Enjoy the durability and low-maintenance benefits of laminate wood flooring, as it is resistant to scratches, stains, and fading. Its moisture resistance makes it suitable for installation in kitchens and bathrooms, where there may be better choices than traditional hardwood.

Laminate Tile Flooring: Achieve the sophistication of ceramic or stone tiles with our laminate tile flooring options. These laminate floors replicate the exquisite look of tile floors while providing the practicality and affordability of laminate. Explore a diverse selection of tile designs, including ceramic and stone looks, to create stunning visual effects in your home. Laminate tile flooring offers easy maintenance and durability. Enjoy the comfort and warmth underfoot compared to traditional tile, making it a smart choice for areas where style and comfort are desired.
Laminate's Many Benefits
There are so many reasons to invest in laminate flooring for your home. Let our team of flooring experts guide you in finding the ideal laminate flooring product that meets your needs and enhances the beauty of your living spaces. We will help you find your perfect laminate flooring and teach you about laminate's many benefits, including:
Durability and Resilience: Laminate flooring is known for its exceptional durability. It is highly resilient to scratches, stains, and fading, making it an excellent choice for high-traffic areas. Additionally, laminate floors can withstand the impact of heavy objects, making it a reliable option for households with pets and kids. The sturdy construction of laminate flooring ensures it maintains its appearance and performance for years to come.

Authenticity and Aesthetics: Laminate flooring convincingly mimics the look and feel of natural materials, such as wood and stone. Advanced printing and embossing technologies create realistic textures and patterns, giving you the beauty of hardwood or tile without the higher costs associated with the materials. With a wide range of styles and designs available, laminate flooring allows you to achieve the desired aesthetic for your home.

Easy Maintenance: Laminate floors are incredibly easy to clean. Their smooth surface prevents dirt and dust from settling, allowing for hassle-free upkeep. Regular sweeping and occasional damp mopping is all that is needed to keep your laminate floors pristine. This makes it a practical choice for busy households and those seeking low-maintenance flooring options.

Affordability: One of the key advantages to laminate flooring is its affordability. Compared to hardwood flooring and other alternatives, laminate offers a cost-effective solution without compromising quality or style. This makes it an attractive option for homeowners looking to update their floors without exceeding their budget.
Laminate vs. Luxury Vinyl Flooring
Laminate and luxury vinyl flooring are popular for homeowners seeking durable and visually appealing flooring solutions. Laminate flooring offers exceptional durability, with scratch and impact resistance, making it suitable for high-traffic areas. It convincingly mimics the look of natural materials like wood and stone while being more budget-friendly. On the other hand, luxury vinyl flooring boasts inherent water resistance, making it an ideal choice for moisture-prone spaces such as bathrooms and kitchens. It offers easy installation options and comes in various styles and designs. Ultimately, choosing between laminate flooring and luxury vinyl flooring depends on the desired aesthetic, budget, and specific space needs.
Innovative Waterproof and Pet-Proof Laminate
Pet-proof and water-proof laminate flooring is a game-changer for homeowners with furry friends or concerns about moisture damage. Designed with enhanced features, this laminate flooring can withstand the demands of active pets and potential water-related accidents. A protective top layer resists scratches and stains caused by pets' claws and paws, ensuring that your floors maintain their beauty and integrity over time. Whether it's playful pets or accidental spills, pet-proof laminate flooring offers peace of mind, allowing you to enjoy your home without worrying about the impact on your floors.
In addition to being pet-proof, water-proof laminate flooring provides an extra layer of protection against spills, accidents, and moisture from various sources. Its advanced technology and construction prevent water from seeping into the core, reducing the risk of swelling, warping, or damage. This makes water-proof laminate an excellent choice for areas prone to water exposure, such as kitchens, bathrooms, laundry rooms, and entryways. With pet-proof and water-proof laminate flooring, you can have style and functionality, ensuring your floors remain resilient and beautiful even in the face of pets' playful antics and potential water incidents. Say goodbye to worries and hello to a durable flooring solution that can handle the unique challenges of your household.
Professional Laminate Flooring Installation
You can trust our installation experts to install your new flooring with precision and skill. Once you choose your new laminate, we will work with you to schedule a time to perform the installation that works on your time. Our professional expertise and flooring equipment ensure that the entire process is quick and easy so you can rest assured.
You will get outstanding results when you choose us to install your flooring. We know how to do every step of the installation perfectly. Everything is done professionally and correctly, from preparing your subfloors to laying down the laminate materials. Once we finish the installation, you can expect your new flooring to attach and fit the room's perimeter securely. Our installation services come at affordable rates and will make your new flooring look better and last longer. Our promise of a quality job is backed by our Ultimate Confidence Guarantee, which assures any necessary repairs relating to the installation are free of charge within 30 days of your installation.
Contact us today to learn more about our laminate flooring selection and installation services. We proudly serve customers in Fort Dodge, Webster City, Humboldt, Eagle Grove, Clarion, IL, and the surrounding communities.